How To Use An MP3 Player In Car
Are you wondering how to use an MP3 player in your car? Well, today we will show you how to use an MP3 player in your car no matter the vehicle model! If you have an iPhone, Android, or MP3 player, this article describes how to listen to music in your car. The type of head unit you have and the compatibility of your mobile device determine your options.
Methods On How To Use An MP3 Player In Your Car
Carplay is the best for iOS smartphones. A suitable head unit with Apple CarPlay is the best way to connect an iOS device. A lot of aftermarket head units also include built-in iOS controls. To connect to your head unit, you can use a USB wire or a Bluetooth pairing, albeit USB delivers better sound quality.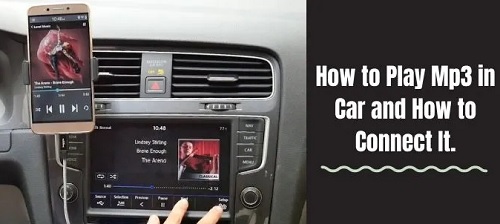 Once connected, use the head unit controls to view and pick songs. This is one of the simplest methods to listen to an iOS device in your car, whether it's an iPhone, iPad, or iPod.
Android Auto is the best option for Android devices. While driving, Android Auto is the best way to listen to music and control your Android device. Android Auto, like CarPlay, is an app that runs on your phone and connects to your car's head unit, allowing you to browse or listen to music, podcasts, and other media through your car head unit. Without compatible head units, Android Auto can still function as an app.
Content can be streamed to your car's music system via USB or Bluetooth connections. However, like CarPlay, Android Auto's compatibility is restricted, and the wireless version works with even fewer devices.
USB has the best sound for all digital media players. A USB connection is the next best alternative if your head unit doesn't have built-in support for your mobile device or MP3 player. Since this media does not have to be compressed and transformed into a wired analog signal, USB provides for an all-digital path between your device and your head unit, resulting in better sound quality.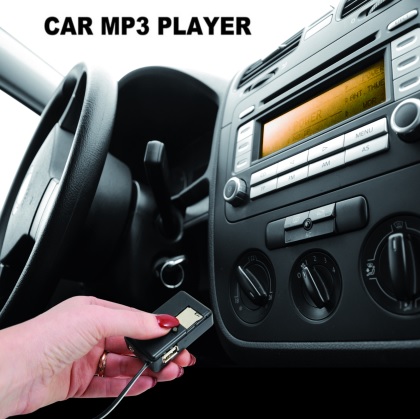 Certain head units can even read data from a USB flash drive, but the majority just have a basic USB port. You must provide a cord that is compatible with your device.
Use An MP3 Player In Your Car With Bluetooth
Without a USB cord, Bluetooth is the best option. Without the wires, Bluetooth can provide the same head unit interface and functionality as a USB connection. However, the sound quality isn't as good, and pairing your gadget with your head unit might be a pain.
Bluetooth is becoming more widespread in car stereos. Most users choose the latter because most of these interfaces also include USB outputs. Bluetooth is preferred over Aux inputs because it allows for hands-free operation.
Aux Input is the best sound for older head units. Some head units, as well as some (very ancient) MP3 players, lack USB ports. Aux inputs, thankfully, are practically universal. These inputs function similarly to headphone jacks in that any 3.5mm aux connection can be used to connect your media player to the car sound.
A cable with two 3.5mm male ends is required. Connect the headphones and choose the Aux audio source on the head device. Because the line-in is an analog input, you'll have to select and play music using your MP3 player. Due to the lossy compression of digital-to-analog audio, audiophiles may hear a reduction in sound quality.
Cassette Adapters
Cassette Adapters are the best option for very old car radios. So cassette decks are no longer standard equipment in new cars, but they are still common in many older vehicles. You might be able to utilize a cassette adapter with your MP3 player if your car has a tape deck but no direct smartphone controls, USB, or Aux.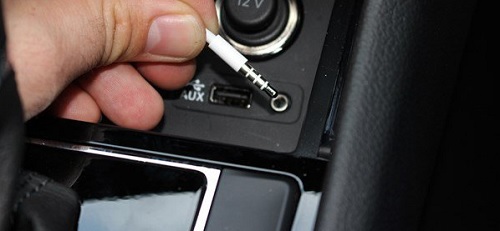 Originally designed for portable CD players, these adapters function just as well with MP3 players. They resemble cassette tapes, however, they don't have any tape inside. Audio is into the adapter through a cable and subsequently to the tape heads. Cassette converters don't have the highest sound quality, but they're a lot less expensive and easier to use than buying a new record player.
FM Transmitter is the most universal solution. An FM transmitter or modulator is the final option for connecting an MP3 player to a car. Your head unit can take up very weak FM signals broadcast by FM transmitters. These signals can't be picked up very far away from the transmitting equipment because of radio broadcasting regulations in most countries. Most FM transmitters connect to MP3 players in the same way as a cassette adapter or auxiliary input does. The finest sound quality is usually obtained by choosing a frequency with little or no idle reception.
Connecting A Phone Or MP3 Player To A Car Stereo
Some head units are only compatible with specific devices. Consider the following options when determining whether systems are compatible with your device:
USB: Many cars feature built-in USB inputs that allow you to connect your phone to the head unit. You can switch it like a phone charger or an external hard drive.
Auxiliary (Aux) Input: Some head units have a 3.5mm auxiliary input. It may be in use with any phone, MP3 player, or audio device that has a standard headphone port.
Bluetooth: Bluetooth enables hands-free wireless control of your MP3 player or smartphone. It is becoming increasingly widespread in automotive head units.
Apple CarPlay: Some head units come with built-in support for iOS devices. Carplay replaces the original vehicle interface with something more Apple-friendly. It allows your iPhone, iPad, or iPod to take over the infotainment system.
Android Auto: Android Auto is similar to CarPlay. They are similar in that it allows you to operate your car's infotainment system with a Samsung Galaxy, Google Pixel, or another Android device.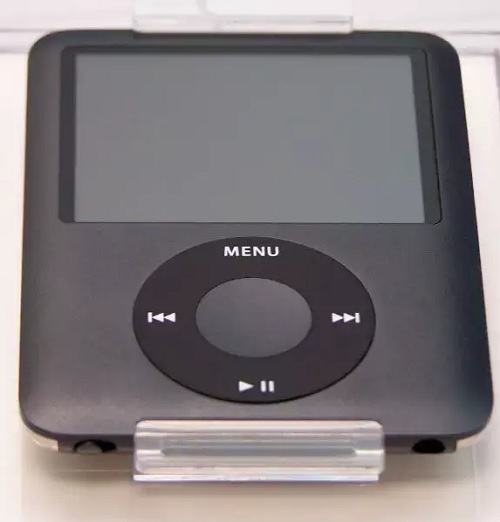 A USB or Lightning connection will provide the finest sound quality. This is because, unlike an aux connection, the digital material on your mobile device does not have to be in tiny size into an analog signal with USB. An aux input is still preferable to an FM transmitter or a cassette tape adaptor, however, both may be preferable to having no access to digital audio at all.