Honda CRV Head Unit Replacement
How can a Honda CRV Be Upgraded? How can you complete Honda CRV head unit replacement by yourself? You've come to the perfect place if you drive a Honda CR-V and want to replace your obsolete radio. The stock stereo may often be replaced with an aftermarket radio that supports Apple CarPlay or Android Auto, but how can I upgrade the stereo in a Honda CR-V? Let's investigate.
The old radio must be removed and the aftermarket audio installed in the Honda CR-V after detaching the dashboard, if necessary. Remember to connect the correct wires and attach the steering wheel controls when installing a new radio. I'll walk you through changing the Honda CR-radio V's step-by-step in the post that follows, and I'll also give you advice on which aftermarket stereo is the best.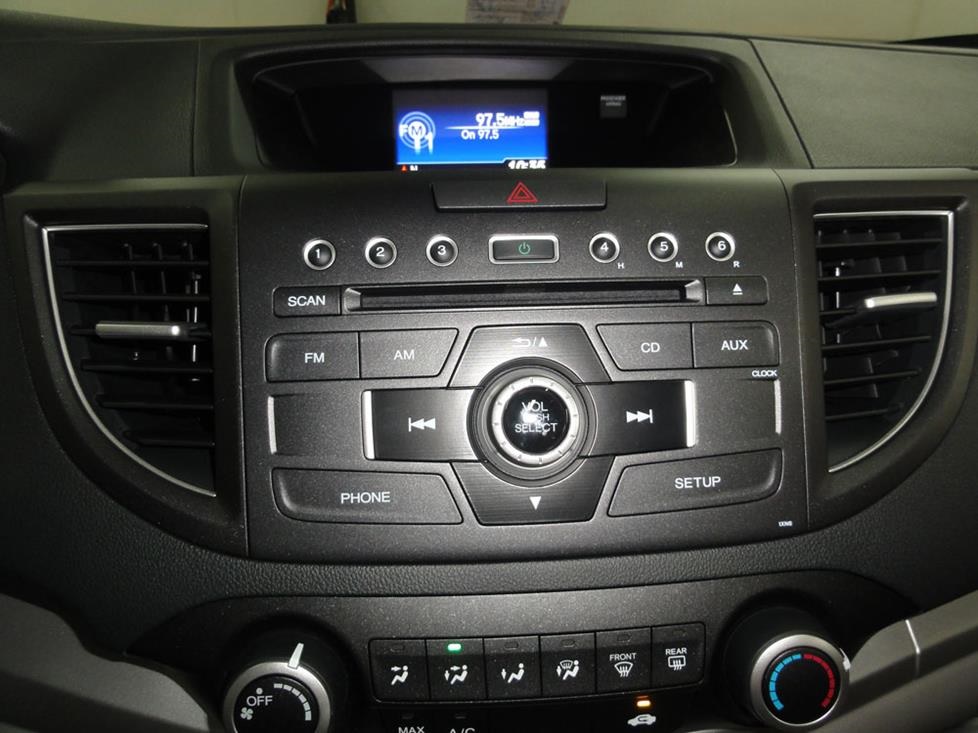 How Do You Change The Stereo In A Honda CR-V
How to complete Honda CRV head unit replacement? The CR-radios V's are simple to remove or swap out for the more recent premium navigation devices introduced in 2015.
You can accomplish it by following the instructions below:
Check underneath the steering wheel for the inner knee panel. The panel can be detached by removing the two Phillips-head screws with a head screwdriver. Lift the panels away from the dashboard after that.
Open the glove box by pushing the sides in with your hands while firmly holding the box's edges. Then, lower it. Then, using a screwdriver, remove the two head screws on the left side of the glove box aperture.
The base of the center dashboard has a small inner compartment. Using the interior clip removal tool, take out the clips on either side of the panel to remove it from the dashboard.
Carefully remove the dashboard's plastic cover for the stereo. Before removing the cigarette lighter from the dash, you must unplug the wiring from the panel.
After removing the panel in Step 4, look for two head screws and eight-millimeter bolts on either side of the radio in this step. The best tools to use to remove them are a ratchet, a 1/4-inch socket, and a head screwdriver. After that, take the audio panels off of the car's dashboard. Disconnect the electrical connections from the vehicle's back.
Use a 1/4-inch ratchet and socket to unmount the stereo from its mounting panel. The same tools and parts are needed to replace an aftermarket radio with a stock radio. Make sure everything is connected in the proper order before reinstalling your audio on the dashboard of your automobile.
If you complete all 6 steps above you will finish the Honda CRV head unit replacement successfully!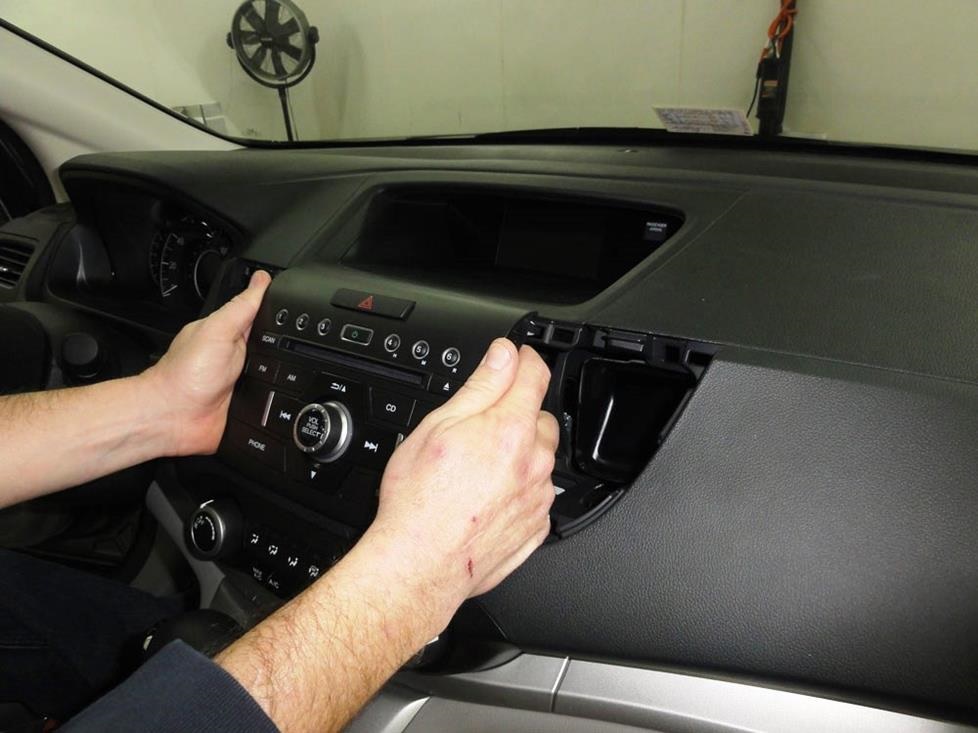 Which Radios Come With The Honda CR-V Standard
The standard radio system for the CR-V has a navigation system that debuted in 2015, a 4-speaker "basic" model, and a 6-speaker "luxury" variant.
Some fortunate CR-V owners got to experience two screens at once when Honda fitted the navigation system to the dash, which already included a driver's information center.
There are aftermarket stereos in two sizes for every model, regardless of what you have:
Finding the ideal fit for the factory-installed receiver on your car is made simple by this. On the other hand, based on the model you intend to install, you can lose several factory features, such as:
Navigation and satellite radio
Controls on the steering wheel
How Should You Choose A Car Stereo For Your CRV
What do you need to keep in mind before you decide to perform Honda CRV head unit replacement? Why get a new stereo for a Honda CR-V? Stereos that are aftermarket typically offer more settings and superior audio quality. Even while many factory radios can be louder than aftermarket ones, the power and circuitry of an aftermarket car radio typically result in greater sound quality. Additionally, improved tone controls let you more precisely adjust the sound.
The following features are standard on all five Honda CR-V trim models:
Honda CR-V LX
It has a front USB connector for charging and connectivity, a four-speaker, a 160-watt sound system, Bluetooth audio streaming, and other typical features.
Special Edition CR-V
It comes standard with a six-speaker, 180-watt stereo system.
EX-L And EX-CR-V
Both have a one-touch power moonroof and second-row USB ports, allowing passengers to charge compatible electronics while riding in the back.
A CR-V EX-L
It increases the number of speakers to eight by adding one more.
What Are The Advantages Of The Honda CRV Head Unit Replacement Upgrade
There are several additional factors you might think about before purchasing a new stereo, including:
Bluetooth
GPS
SiriusXM satellite radio
High-resolution music files can be played back digitally;
Apple CarPlay and Android Auto is also available. Let's examine the key characteristics to look for when purchasing an aftermarket car audio.
Sizeable Display
While having a gorgeous appearance is a great place to start, a big-screen stereo provides much more than just greater looks. You can quickly get all the information you require when driving. Additionally, you'll add smartphone connectivity, GPS, and other cameras. Touchscreen receivers come in three different categories:
Double-size (4-inch-tall) in-dash receivers, the most popular style.
2 "tall receivers with screens that fold out
New touchscreen receivers that float
The most crucial factors for any contemporary multimedia stereo are the screen's size and the information it can display. Let's examine how to utilize a touchscreen radio receiver to its full potential.
Phone assistance
Widescreen displays are far simpler to observe than the single-line displays found on typical automobile stereos. This feature makes it simple to access the music, the caller, and the upcoming path.
Include A Camera For Security
Reversing safely and avoiding accidents can be made possible with a rear-view camera on your touchscreen stereo. Compared to a regular rear-view mirror, its wide field of view offers a far more complete picture of what is behind you. Although most cars come with a single reverse camera as standard equipment, many modern stereos can accommodate additional cameras, including front and side views.
CMOS-230 Kenwood
Because it is only one cubic inch in size, the CMOS-230 from Kenwood is a straightforward surface-mounted universal backup camera that fits perfectly in the back of your CR-V. You can check the video display on the receiver's receiver after installation. When reversing or towing something, you will be able to see what is going on behind the vehicle clearly because of the camera's 128-degree horizontal and 103-degree vertical fields of vision. A lengthy 24-foot cable and harness set with a composite video connector that works with almost any video receiver are included in the kit.
Alpine HCE-C2100RD
Although the HCE-C2100RD from Alpine offers a superior picture and more line adjustments, it is only compatible with Alpine stereos.
If you want to see everything behind you and have an Alpine touchscreen car stereo in your CR-V, this HDR rear-view camera is an essential addition.
The small camera fits perfectly and gives you superb, extended vision when backing up or towing because it is less than one square inch in size.
You have a choice between four different viewing modes with your Alpine receiver:
Rear-view
Corner Ground
Panorama
To connect the camera to an Alpine stereo, the kit includes a 34-foot cable with a unique Alpine socket. Using On-Screen GPS for Navigation GPS-enabled touch screen stereos is a godsend for drivers who rely on their cars to navigate city streets. Choose a touchscreen stereo with Apple CarPlay or Android Auto if you don't want to pay extra for integrated navigation or future map updates.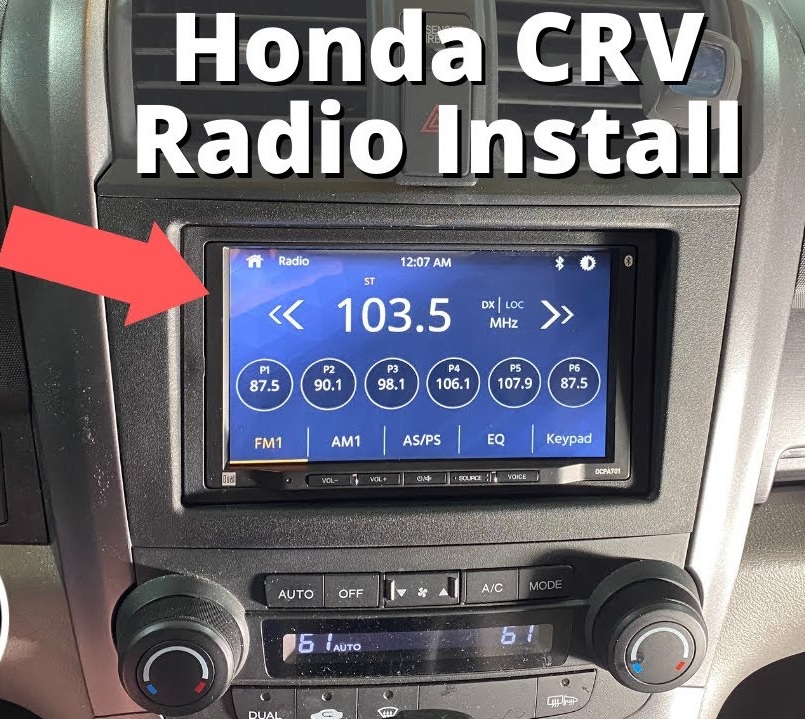 Both methods rely on navigational programs like Google Maps, and the map looks fantastic on the wide display.
Display That Is Effective And Informative
Touchscreen receivers frequently let you adjust the background and appearance in addition to playing music and making calls. You can arrange the functions you use the most frequently and have total control over how your display appears.
Improved Sound Control
The best high-end receivers come with superb capabilities that are typically found on pricey external sound processors to help you fine-tune your music system:
Digital time adjustment
Statistical Equalization
Even those that are less expensive offer more audio control than the typical factory radio.
Cosmetic Appeal
The interior design of your car can be enhanced by the cutting-edge displays of aftermarket stereos. It is possible to use a multi-line display to make it simpler to examine details about:
The advanced display also makes operating and fine-tuning the audio easier. Popular choices include full-color animated displays and color patterns that may be customized. Additionally, if you enjoy parties, think about a stereo with spotlights if you want to enhance the listening experience with more immersive effects.
The most recent development in car stereos is floating screens, which may be as big as 9 or 10 inches. They "float" in front of the dash since they don't fit within.
Stereos of this caliber offer a far higher "wow factor" and a more impressive capacity for "user-friendliness."
Expandability
You have the option to further improve the sound system when installing the new stereo in the Honda CR-V by:
Backseat screens;
Amplifiers;
Connections for music players;
Subwoofers;
The Best Car Stereos For The Honda CRV Head Unit Replacement
Every car has a car stereo so you can listen to music while you're driving, hear the news while you're heading to work, or just use GPS to find your way around town. Like everyone else, Honda CR-V drivers should shop around for the best car stereos for their vehicles. Because of their high caliber and dependability, I've included a couple of my favorite radios to help you narrow down your search. So let's examine each one in turn:
SAT NAV Alpine INE-W970HD
This is my first choice. Alpine's INE-W970HD navigation receiver with the DVD/CD reader stands out from the competition thanks to its built-in GPS navigation and support for Android Auto and Apple CarPlay. It connects to SiriusXM and features a built-in HD radio, which is fantastic for radio enthusiasts. Outstanding characteristics include:
Apple CarPlay And Android Auto
You can activate voice commands by uttering a keyword or pressing the "Voice" button on the stereo's bezel. The main drawback to this radio is that both device types require a solid USB connection with your phone.
GPS Directions
Accurate maps of Canada, the US, the Virgin Islands, and Puerto Rico are the first navigational aids in Alpine. You'll hear spoken directions with street names at each turn. If necessary, the display can additionally offer 3D landscape views or 3D models of buildings and landmarks.
An Easy to-Read Display And Simple Connectivity
Although the 6.5-inch HD display on the INE-W970HD is not the largest, it has outstanding clarity. It has two USB connections so you may simultaneously connect a phone and a flash drive. You may project the screen of your smartphone device onto your monitor using the HDMI connector.
Assistance for Drivers
The receiver has a built-in drive assist and is compatible with Alpine's DVR-C320R 2-camera system, giving you the following features:
Warnings for frontal collisions, lane deviation, and front car movement. Additionally, you may capture HD video views from your car's inside, back, and dashboard.
You can check how to get the Honda radio code if you have this type of problem!
DDX26BT by Kenwood
The Kenwood DDX26BT DVD player is a great choice if you're on a tight budget. This DVD receiver boasts several high-end features like Bluetooth, Internet radio control, and complex sound-sculpting settings, despite not having SAT NAV. This is the radio you might need to look at if you are preparing to replace the stereo in your CR-V and are not considering a more pricey option. To operate with your iPhone or Android device, you may use a cable USB or wireless Bluetooth connection, which is a significant benefit. The 6.2′′ touchscreen display also makes it simple to navigate.
This receiver is a great option for all of your media, including high-resolution music files, which are easy to understand. Its exceptional qualities include:
Comfort With Bluetooth
This Kenwood allows you to couple two phones simultaneously if you're not the only person in the car who uses a smartphone. The music mix feature allows you to join up to five phones together when streaming music, allowing everyone to pick their favorite tunes for a large driving mix. The versatile tone controls on this receiver may even be customized, and playback can be controlled using the free Kenwood remote app.
Lots Many Musical Choices
You may access Pandora and Spotify online radio stations right from your iPhone or Android device with the DDX26BT. You can playback any kind of file if you have a USB flash drive.
Video
The DDX26BT has many great audio options, but the visual features, like the on-screen parking guide for the backup camera, are much better. If your backseat passengers are fidgety, you can add more displays to this receiver's video output. The best feature is being able to watch films on Kenwood's screen while the parking brake is engaged.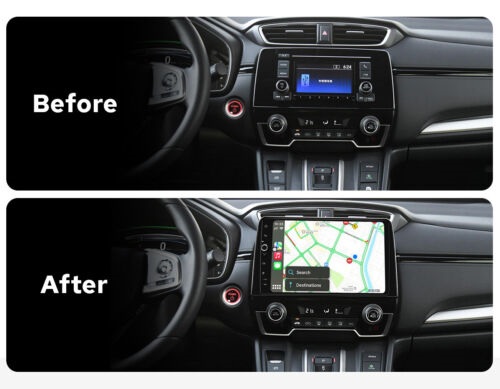 Honda CRV Head Unit Replacement Questions and Answers (FAQ)
Will the updated stereo be compatible with the current backup camera?
The majority of aftermarket stereo systems are compatible with the OEM backup cameras. You will need to purchase a backup camera if your car doesn't already have one.
Can I use my favorite music app after installation to listen to it?
By connecting a USB or Bluetooth-enabled mobile device, you can play music from your music app. Using Apple CarPlay or Android Auto, it is also able to control the majority of music apps from the stereo's touchscreen.
Can I Add GPS Navigation After Installing the New Stereo?
Android Auto and Apple CarPlay are your two options for GPS navigation on touch-screen stereos after the radio is in place. You can use your chosen GPS app, such as Waze, Google Maps, or Apple Maps, of them. To receive GPS navigation without a phone, keep in mind that you need a current stereo with built-in navigation.
In the end, we hope that you will complete the whole Honda CRV head unit replacement successfully!