How To Find Blaupunkt Radio Code
Finding a Blaupunkt radio code using many methods depending on the user's possibilities! Here in this post, you will find all about this problem and its solution for sure!
Easiest method: Request the code or have the Blaupunkt radio reset by your local dealer's service department.
Second method: Enter your vehicle's information on the automaker's website and get the Blaupunkt radio code.
Use free or paid online resources and archives as a third option.
Certain Blaupunkt automobile radios have an anti-theft mechanism that activates when the battery runs out. Until the relevant car radio codes are entered, this feature usually locks the unit. The code is usually always unique to the radio's Blaupunkt brand and model, as well as the specific unit. If your head unit's code isn't recorded anywhere in your owner's manual, you'll have to have the following information before you can continue:
The vehicle's make, model, and year.
The vehicle's VIN (vehicle identification number).
Radio's model, model number, and item number
Use one of the three options to locate the Blaupunkt radio code after you have this information. You must usually remove your Blaupunkt radio to retrieve the brand, serial number, and part number. If you don't feel comfortable disconnecting and installing a car stereo, carry your vehicle to a nearby dealer and have the radio reset for you.
Sources For Blaupunkt Radio Codes
You can contact a local dealer or get a code directly from the manufacturer to get a car radio from an official, original equipment manufacturer (OEM) source. The majority of automakers will connect you to a local dealer. Only a few companies let you request your Blaupunkt radio code online. After you've gathered all of the necessary information about your vehicle and radio, utilize the table below to find a nearby dealer or the official online car radio code request site. Inquire with the service writer about having a technician search up your car's radio code.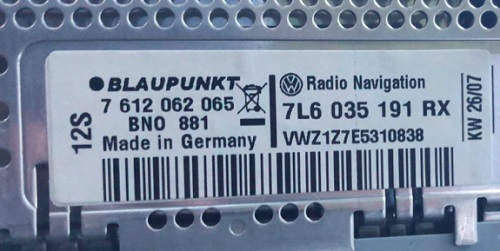 You may be able to get the code over the phone. In this case, you may need to schedule an appointment with the dealership. You can alternatively drive your car to the dealer. There the service department will determine the Blaupunkt radio's serial number and input the code for you. If your vehicle's manufacturer supports an online code lookup, you'll need to input your VIN, the radio's serial number, and contact information like your phone number and email address. For your records, the code may be forwarded to you. On our website, you can find a workable unlock Blaupunkt radio code calculator that can help you find your code only with the radio's serial numbers!
Request For The Unlock Combination
You might be able to get your Blaupunkt radio code from the firm that produced the head unit, in line with local dealers and OEM online code request services. The following are some examples of head unit manufacturers who can supply Blaupunkt radio codes: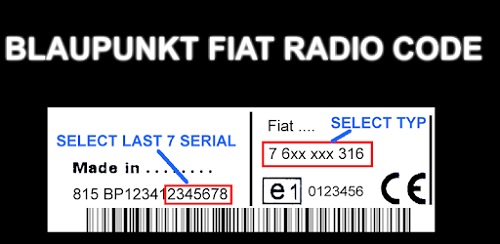 Every major automaker has its own rules on Blaupunkt radio codes. They may be able to assist with any "personal" codes set by a former owner. In this case, they will refer you to the vehicle OEM for a factory code. In other circumstances, evidence of ownership may be needed to guarantee that the head unit is not stolen. Head unit makers, unlike vehicle OEMs, often charge a lookup fee to locate a Blaupunkt radio code.
Other Resources
If your vehicle's manufacturer does not offer an online code request service and you want to contact a local dealer via an online resource, there are free and paid databases available.
Another alternative is to speak with a local vehicle audio installer. Some vehicle audio installers pay for access to Blaupunkt radio code databases. This occurs since they deal with this type of problem frequently. They usually demand a price for this service because they pay for the information.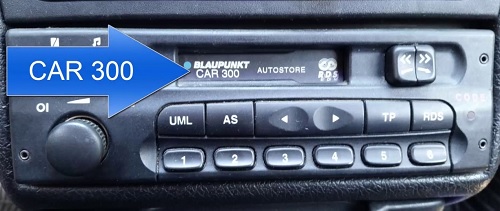 Use carefully when visiting any site that claims to provide free vehicle radio codes. Pay attention especially if the site requests your credit card information. Although there are reputable sites that provide this service. Know that there is a risk of catching malware or falling victim to a scammer.